10 Things To Do In Tallahassee This Fall 2017
What To Do In And Around Tallahassee, FL this Fall 2017
Summer is gone, Winter is coming in slowly..but most importantly,Fall is here and so are some great activities that offer something for everyone!
Indoors, outdoors, artsy, theater, you name it..there is a lot that the Fall Season offers in the Tallahassee Area.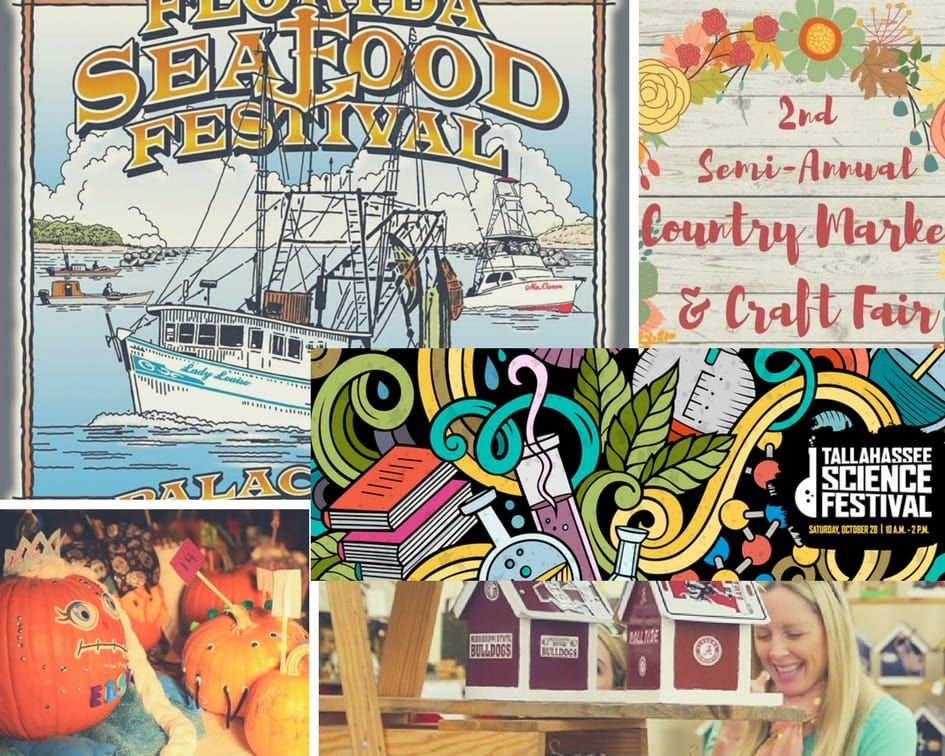 Here is a list of 10 Things To Do This Fall in Tallahassee, FL
1. Visit the North Florida Fair: Cotton Candy, Funnel Cakes, lots of rides, a petting Zoo and a Moto-Maniacs Thrill Show seems like a great Saturday or Sunday to us. The North Florida Fair will be in Tallahassee from the 2th-12th of November. Click here for more info
2. Downtown Getdown (Friday Night Block Parties): When there are football games in town, the Seminole Fans do know how to get their party on! There are scheduled Friday Night Block Parties every Football Season before a game in Tallahassee and you definitely want to attend at least one of those parties to live the whole Seminoles Football Fanatic Experience. There are live bands, food, drinks..pretty much everything needed to have a great time.Click here for more info
3. Tallahassee Science Festival: The 6th Annual Tallahassee Science Festival will take place on Saturday, October 28th, 2017 from 10am-2pm at Kleman Plaza. With a heavy focus on S.T.E.M. (Science, Technology, Engineering, and Math), booths will feature activities and exhibits driven by problem-solving and creative-thinking. The Tallahassee Science Festival promises to be a fun and dynamic learning experience for the entire community. This FREE event is an incredible, hands-on experience for children of all ages. #ScienceInTally
4. Tallahassee Comic Con: Perfect event for comic enthusiasts, graphic artists, sci-fi, fantasy and pop-culture lovers! Tallahassee Comic Con is December 2-3, 2017 at the Tallahassee Antique Car Museum.
5. Gaines Street Tribute Fest: Gaines Street Tribute Fest will be held on 11-11-2017. All of the businesses in the area are coming together to support and raise awareness for all of our community volunteers. We're inviting all community organizations and non-profits to come out and table and 5-20% of proceeds from participating businesses will be donated to Unity Song for future festivals and community engagement. FREE ADMISSION
6. Music. Concerts. and Family! Love music? Tallahassee is a growing metropolis for music events. With venues popping up at restaurants, pubs, parks, and with the addition of two outdoor ampitheaters now open and thriving, the music culture is growing like wildfire in Tallahassee. Just about every kind of music is found each week. Here are a few of the locations to find music venues and upcoming concerts: Donald Tucker Civic Center, Capital City Ampitheater Concerts at Cascades Park , B Sharp's Jazz Cafe, Bradfordville Blues Club, The Pavilion at The Centre of Tallahassee, Ruby Diamond Auditorium at FSU, Waterworks,
7. Head to the Coast for Seafood! The Florida Seafood Festival is right around the corner in Apalachicola! A scenic drive from Tallahassee and you can experience some of the besst seafood tastings, music, and arts and crafts in Gorrie Park by the bay. Don't miss the Florida Seafood Festival Nov 2nd-4th, 2107
8. 2nd Annual Country Market and Craft Fair in Monticello, FL: Saturday, October 28th 101m - 4pm. Come see country crafts, food vendors and entertainment 0 fun for the whole family. Barrington Field a.k.a Lloyd Park 252 Gamble Rd, Monticello, Florida 32344
9. Market Days Annual Holiday Shopping Event: December 2nd-3rd: Market Days is one of the Southeast's largest and best juried arts and crafts shows, featuring the unique, handmade creations of approximately 300 artists and top-quality artisans and craftspeople. Market Days offers a wonderful array of works in various price ranges, from breathtaking fine art to charming stocking stuffers. The works include fine arts, ceramics, country furniture, stained glass, woodwork, glasswork, dolls, clocks, pottery, jewelry, sculpture, metalwork, clothing, photography and calligraphy. Proceeds benefit the Tallahassee Museum.

10. Downtown Thomasville, GA Sip and Stroll: December 1st, 2017 at North Florida Fairgrounds. Enjoy a night of sipping and shopping in Downtown Thomasville! Grab your favorite beer or wine from your favorite Downtown restaurant or venue and stroll through the downtown …or hit the bricks in style and take an enchanting horse-and-carriage ride through the historic streets. Enjoy live music on Broad Street from 6-8PM and a free concert in the Park and Amphitheater from 8:00-10:00PM featuring Bleu Burden.
No matter where you go or what you choose to do.. isn't Tallahassee wonderful? So many family events, great music venues. People, places, fun things to do every weekend and even during the week! Get out and experience it all!
Meanwhile, if you know of someone relocating to Tallahassee, don't forget to let us know so we can give them a tour of the City and help them find their dream home right here! SEARCH Tallahassee Homes or Just click Contact Us For Your Tallahassee Home Search.